was an LDS church member in Utah; convicted of sexually abusing a 10-year-old girl; sentenced in 2022 to serve a minimum of 16 years in prison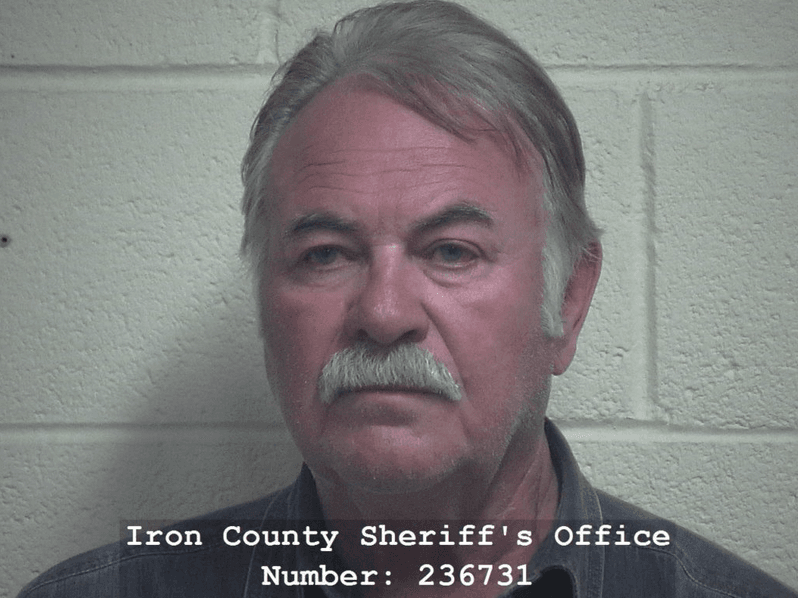 About
Darcy
Anderson
Personal information sources
Darcy Anderson Mormon Sex Crime Case Summary
"CEDAR CITY — A Parowan man convicted of sexually abusing a 10-year-old girl has been sentenced to serve a minimum of 16 years in prison.
Iron County Jail Booking photo of Darcy Anderson | Photo courtesy of Iron County Sheriff's Office, St George News / Cedar City News
Darcy F. Anderson, 71, who had been found guilty by a jury during a three-day trial held in February, was sentenced on Tuesday afternoon by 5th District Judge Ann Marie McIff Allen.
Allen ordered that Anderson serve 15 years to life for one count of aggravated sexual abuse of a child, a first-degree felony, plus two 1-to-15 year terms for two second-degree felony counts of child sex abuse.
While the two latter terms will be allowed to run concurrently with each other, they are to be served consecutively following the completion of the first term, the judge ordered.
Although credit was given for jail time already served, Anderson will be in his late 80s at least before he is eligible for release.
As previously reported in Cedar City News, Anderson had a group of young girls over at his home to watch videos and eat cookies in late May 2020.
During that visit, Anderson inappropriately touched or molested one of the girls on two separate occasions and had also placed the girl's hand on his genital area over his clothing, prosecutors alleged during the trial.
The aggravated sexual abuse charge involved Anderson penetrating the girl with his fingers while they watched the movie together on the couch, prosecutors stated.
During Tuesday's sentencing hearing, the girl's mother addressed the court, saying, "I would happily like to disclose that with all that, we are finally healing and moving on."
In addition to the girl who was assaulted, another of the woman's daughters was also present in Anderson's home at the time of the incident, she said.
"I am proud of my daughter … both my daughters (for) their strength and their bravery of being able to stand against the person that hurt them and be able to tell the story of how it was," the mother said.
"I am so proud of them. I'm thankful and I'm just happy that our family has been able to finally move on from this ordeal," she added. "And, I'd also like to just say to you, Mr. Anderson, that I wish you the best of luck with the outcome of this, and that justice is served this day."
Prosecutor Shane Klenk also addressed the court, saying there are very few cases more serious than those involving sexual abuse of a child.
"Although running these charges consecutively is really only a difference between 15 years to life and 17 years to life, the court should send a message that in the 5th District, and our community, and as a society on the whole, sexual victimization, particularly of children will not be tolerated," he said, "And (that) abusers will be punished with the full weight of the law."
"Darcy Anderson perpetrated (crimes) on a young child," Klenk added. "He deserves the proverbial millstone and has earned the maximum sentence allowed under the law."
Fifth District Courthouse, Cedar City, Utah, April 15, 2021 | File photo by Jeff Richards, St. George News / Cedar City News
Defense attorney Troy Sundquist said due to mandatory sentencing requirements associated with the charges, there wasn't much left for him to argue about. He did address the issue of whether Anderson's terms should run consecutively versus concurrently, although he conceded the issue "may prove to be meaningless."
"While it's completely understandable why the state would request consecutive sentencing, in this case, we'd ask the court to consider concurrent sentencing, simply because of the age of Mr. Anderson," Sundquist said.
During his remarks to the judge, Anderson talked of the car crash he and his fiancee had been in two years ago, just a couple of months prior to the incident that led to his arrest. His fiancee was still in the hospital at the time, he said, and he was looking forward to having the neighborhood girls meet her.
"She thought it was nice that the kids were coming over but I had to be prudent," Anderson told the judge. "And to hear Klenk continue to make his accusations of what a threat I am to the human race, just keeps frustrating me. But I think the truth, as I've always maintained, shall set me free."
Anderson also took a few moments to criticize the process by which he was interviewed by police, calling it "manipulative" and saying his statements had been obtained via false pretenses and misleading questions.
Anderson also asked that he be permitted to leave jail on probation to address matters at home during the appeal process, but the judge didn't allow that. He has 30 days to file a written appeal, Allen noted.
"If there is one positive note from this hearing, it's the expressions of reconciliation and healing that were made," the judge said just prior to handing down the sentence. "But I am compelled to remind Mr. Anderson at this time that he has been convicted by a jury of his peers of the three counts that the court is considering today. And the court is going to sentence commensurate with the verdict of the jury."
The court didn't impose any additional fines or fees other than the required court security fee. Restitution was left open until June 1, 2023."
LDS Sex Abuse: FLOODLIT Reader Poll
The poll below is completely anonymous. We love hearing from you! View all polls results
Loading ...
Do a case review about Darcy Anderson
You can help Floodlit.org improve our database by reviewing this case and letting us know what we can change or add.
Mormon sex abuse map
The map below shows places where alleged or confirmed sex crimes by Mormon church members took place, where the accused lived, where they were arrested, and where they served prison time. Visit the FLOODLIT map.
Search LDS sexual abuse cases
Search FLOODLIT below or try an advanced search.