was a former LDS bishop and junior high school teacher in Utah; previously lived and served as a Mormon bishop in California; sentenced in 2002 to a minimum of 20 years in a Utah state prison for sexually abusing four of his granddaughters living in Utah; allegedly began molesting kids as early 1950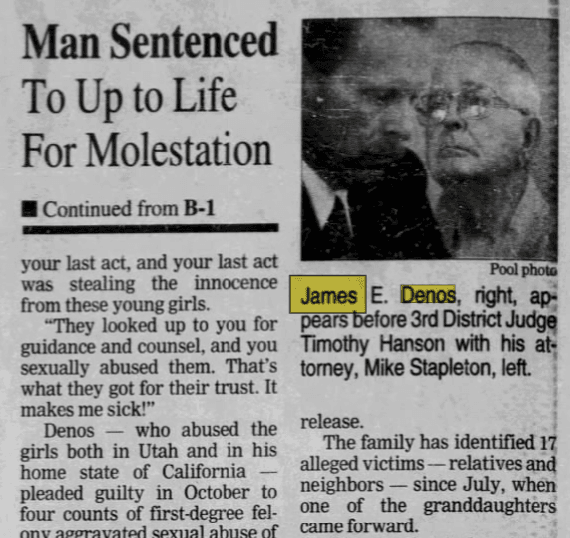 About
James
Denos
Latest update: 2017-10-25: died in Draper, Utah
Lived: 1929 - 2017
alias(es): Bishop Denos, James Denos Jr.

LDS mission: yes - 1947-1950 Holland

LDS temple marriage: yes 1951 St. George

Criminal case result:
James Denos Mormon Sex Crime Case Summary
James Denos was a former Mormon bishop in California who was sentenced to prison in 2002 for molesting four of his granddaughters, who were ages 7 through 13 at the time of the sentencing. The abuse took place between January 1998 and January 2002, when the girls' ages were approximately 5 through 11, while Denos visited them in Utah.
The sexual abuse took place during car rides, while playing computer games and while watching television, according to charging documents.
The girls also claimed they were molested when they visited Denos in Huntington Beach, California. Denos was only charged with abuse that occurred in Utah.
Denos' daughter said, "In public, my father was always so perfect, and he told us he was perfect." She also said, "He went to church every Sunday, we had family home evening and we read the Scriptures. People put him on a pedestal. But he was molesting children … right under our noses."
Denos was bishop of the Huntington Beach Fifth Ward in Westminster, California in 1970.
He served an LDS mission to Holland (Netherlands) for nearly three years, from 1947 to 1950.
—
May 5, 2000 – Utah
James Denos, a bishop in the LDS church, was "sentenced to a minimum of 20 years in prison after pleading guilty in October to four counts of aggravated child sexual abuse in a Utah District Court. The ruling Friday by Utah Third District Court Judge Timothy R. Hanson sentenced James Denos, 73, to a minimum 20 years in a Utah state prison for sexually abusing four of his granddaughters living in Utah. Although the charges deal only with abuses that occurred in Utah, family members say that Denos did molest the girls when they visited him in Huntington Beach. The Huntington Beach Police Department is conducting its own investigation, but authorities could not give any further details. The family has identified 17 alleged victims. Denos' son Ray claims his father molested his first known victim 50 years ago.
"They're mostly girls between the ages of 3 and 11 and we're concerned because there could be a lot more victims in his church." Gilliland said.
Denos is a retired Long Beach junior high school teacher and the former bishop of the Church of Jesus Christ of Latter-day Saints in Westminster. "Denos abused girls in both the state of Utah and California."
LDS Sex Abuse: FLOODLIT Reader Poll
The poll below is completely anonymous. We love hearing from you! View all polls results
Loading ...
Online sources
Online sources excerpts
Do a case review about James Denos
You can help Floodlit.org improve our database by reviewing this case and letting us know what we can change or add.
Mormon sex abuse map
The map below shows places where alleged or confirmed sex crimes by Mormon church members took place, where the accused lived, where they were arrested, and where they served prison time. Visit the FLOODLIT map.
Search LDS sexual abuse cases
Search FLOODLIT below or try an advanced search.