was an LDS missionary in Virginia in 2022; accused of soliciting sexually explicit pictures and video from a person he believed to be an 11-year-old girl, and inviting her to meet in person; arrested in Boise, Idaho on July 23, 2023 and accused of rape of a minor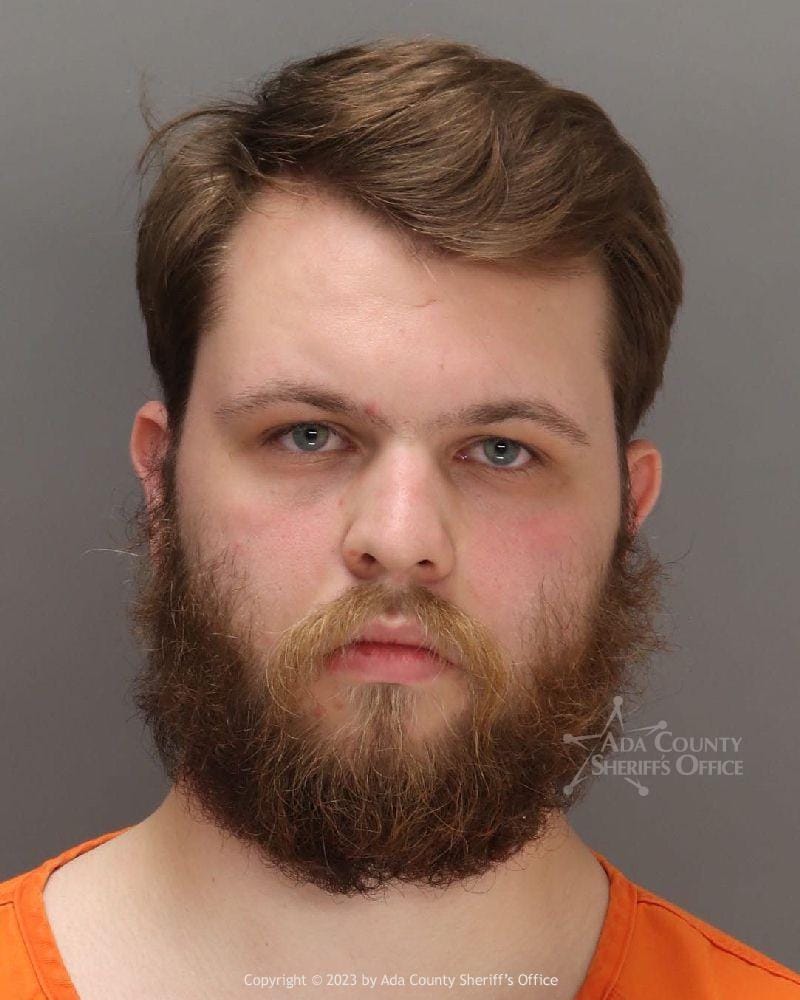 About
Calvin
McGee
born 2002
alias(es): Elder McGee

LDS mission: yes - -

LDS temple marriage: no

Criminal case result:
Calvin McGee Mormon Sex Crime Case Summary
2023-07-23: Calvin McGee was arrested this morning in Boise, Idaho and accused of rape of a minor, FLOODLIT has learned. We welcome your information tips.
—
2022-12-29:
FLOODLIT has obtained a redacted excerpt of a James City County, Virginia police report regarding the incident with the missionary in Virginia. Our sources have reviewed police bodycam footage and told us they were deeply disturbed by the actions of this individual.
Calvin McGee is confirmed to be the name of the missionary involved. He is from Boise, Idaho.
While serving as a full-time missionary for the Church of Jesus Christ of Latter-day Saints, Calvin McGee (age 20, male) was confronted on November 3, 2022, by a team of online predator hunters regarding explicit online exchanges with an individual he believed to be an 11-year-old female.
During the confrontation, McGee allegedly admitted to having initiated contact with the target, and despite believing her to be only 11 years old, made sexual advances and requests, including soliciting sexually explicit pictures and video, and inviting her to meet in person.
The confrontation was posted online at https://www.youtube.com/watch?v=_QFgc1PWaek in December 2022, by the Predator Poachers group (also known as NVCAP).
Details provided in the online video have been independently confirmed to be accurate representations of what occurred. McGee was read his Miranda rights (but not arrested at the time) and again admitted to the solicitation of the images of a female he believed to be 11 years old through online platforms, using his missionary cell phone. Because the decoy victim was out-of-state at the time of the alleged incident, the matter has been referred to federal authorities for further review and investigation. The investigation remains ongoing, and FLOODLIT is not aware at this time whether McGee continues his service as a missionary.
If you have any information about these allegations, please contact us: https://floodlit.org/contact/. We keep all contributors anonymous.
LDS Sex Abuse: FLOODLIT Reader Poll
The poll below is completely anonymous. We love hearing from you! View all polls results
Loading ...
Videos: Calvin McGee Mormon sex crime case
Video title:

Mormon Missionary Pred who lnvited 11 Yaer OId GirI over Caught n front of friend (Williamsburg Va)

Video description:

NVCAP - YouTube, 2022-12-12
Do a case review about Calvin McGee
You can help Floodlit.org improve our database by reviewing this case and letting us know what we can change or add.
Mormon sex abuse map
The map below shows places where alleged or confirmed sex crimes by Mormon church members took place, where the accused lived, where they were arrested, and where they served prison time. Visit the FLOODLIT map.
Search LDS sexual abuse cases
Search FLOODLIT below or try an advanced search.